Art and Satire Get Together in Cartoons – Featuring Lalo Alcaraz and La Cucaracha
Interview with Lalo Alcaraz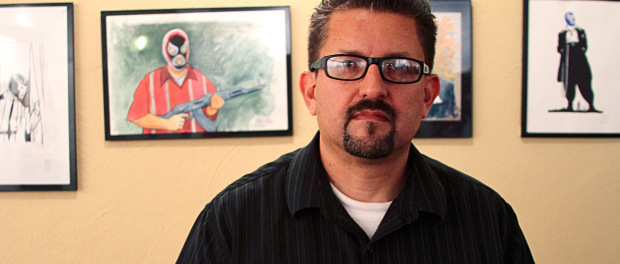 Podcast: Play in new window | Download
Subscribe: Google Podcasts | Email | RSS | More
Lalo Alcaraz is an award winner artist, cartoonist, writer, stand-up comedian and radio host with a keen sense of political satire. He graduated from San Diego State University, in Art and Environmental Design, and later earned his master's degree in architecture from the University of California, Berkeley.
Alcaraz was born in San Diego and grew up on the border. He is married to a hard-working public school teacher and they have three extremely artistic children.
Alcaraz is the author of the first nationally-syndicated, politically themed Latino daily comic strip, "La Cucaracha." He also co-hosts and co-produce every week a radio show called " The Pocho Hour of Power" in southern California, co-founded the political satire comedy group Chicano Secret Service, and is a faculty member at Otis College of Art & Design in Los Angeles. He is currently a co-writer for the incoming FOX series "Border Town".
He has been awarded prizes like four Southern California Journalism Awards for Best Cartoon in Weekly Papers, the Los Angeles Hispanic Public Relations Association's Premio Award for Excellence in Communications, and the Center for the Study of Political Graphics "Art As A Hammer" Award.
As a humorist, his work also calls for some stand-up comedy, as you will see in this, his TED talk where. Here you may also learn more about his work and his background.
Alcaraz work has appeared in the New York Times, the Village Voice, the L.A. Times, Variety, Hispanic Magazine, Latina Magazine, Mexico's La Jornada, Germany's BUNTE and many other publications. Alcaraz and his work have been featured on many national TV networks. Mi Ciudad Magazine named him "Best Latino Cartoonist in Los Angeles," and Lalo has also been featured by Rolling Stone Magazine, Los Angeles Magazine, Associated Press, Editor & Publisher and profiled extensively in the Comics Journal. He also runs the online magazine "El Pocho : Ñews y Satire".
He has also published books with the recollection of his works. they include "Migra Mouse: Political Cartoons On Immigration," (2004), and also authored the first collection of his daily comic strips, "La Cucaracha." (2004, Andrews-McMeel Publishing.)
Among his illustrator works is the illustrated "Latino USA: A Cartoon History," (2000 by Basic Books) with author Ilan Stavans.
It is a pleasure to talk with him for this show, and hope to have him back soon.
_______________________________________
We hope to inspire and inform. We wish you can give us feedback, subscribe to this site and our social media outlets to keep receiving information about our show.
As usual, I want to thank  you for listening to our show "Atenea Americana", as part of my effort Stanford Hispanic Broadcasting. You can help making programs like this possible by leaving your comments, contributing with your ideas or  materials, but also helping us raise funds. Remember to check our "Contribute" page to learn more.
You can also download this show on your mobile device by going to our site in ITUNES or in PodOmatic or any other of the online platforms showed at the bottom. Remember that we thrive with your comments and your participation.
************************************
Other online Platforms for our show:



************************************