Global Entrepreneurship Summit (GES2016) and "Demand Solutions 2016"
Talk by US SBA Director Maria Contreras-Sweet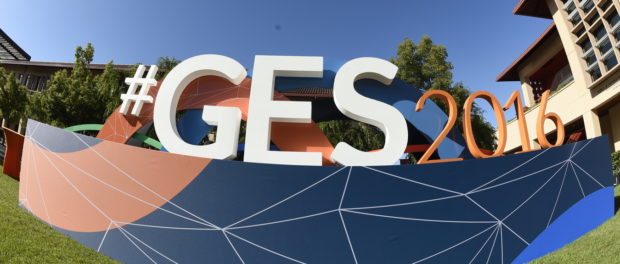 Podcast: Play in new window | Download
Subscribe: Google Podcasts | Email | RSS | More
During 2016 summer at Stanford, President Barak Obama hosted his annual entrepreneurship summit. That week international entrepreneurs joined to connect, exchange ideas en promote innovation and entrepreneurship.
The Summit idea is to connect global entrepreneurs giving them access to new connections and sharing the information they may need to create and innovate. In other words help them to unleash their power to change the world. This Summit was the 7th installment in a series previously hosted by the United States and the governments of Turkey, the United Arab Emirates, Malaysia, Morocco, and Kenya.
Among the related events was the "Demand Solutions 2016", hosted by the inter-American Development Bank. They invited entrepreneurs from Latin America and the Caribbean to the event. There, they listened to other innovators, entrepreneurs, policymakers and ecosystem builders that are working in Latin America and the Caribbean. They had the opportunity to share their stories, challenges, and accomplishments.
Today I am airing the speech that director of the "US Small Business Administration Agency", Maria Contreras-Sweet gave to an international audience filled with entrepreneurs from different countries'.
Contreras-Sweet was sworn in as the 24th Administrator of the U.S. Small Business Administration (SBA) and as a member of President Obama's cabinet on April 2014.
The SBA is charged with supporting America's 28 million small businesses, which create a majority of US jobs and employ half of our nation's private-sector workforce.  The Agency oversees the world's largest seed fund and the largest middle market fund of funds, as well as a $120 billion loan portfolio.  It also directs the world's largest business counseling network and one-quarter of the federal procurement activity to small business.
We hope you enjoyed our show. Remember to leave a comment and to follow us on social media. _______________________________________
We hope to inspire and inform. We wish you can give us feedback, subscribe to this site and our social media outlets to keep receiving information about our show.
As usual, I want to thank  you for listening to our show "Atenea Americana", as part of my effort Stanford Hispanic Broadcasting. You can help making programs like this possible by leaving your comments, contributing with your ideas or  materials, but also helping us raise funds. Remember to check our "Contribute" page to learn more.
You can also download this show on your mobile device by going to our site in ITUNES or in PodOmatic or any other of the online platforms showed at the bottom. Remember that we thrive on your comments and your participation.
Other online Platforms for our show: