Luis Barragan, Timeless Architecture of Peace
People who changed the world - Column with Isabel Jubes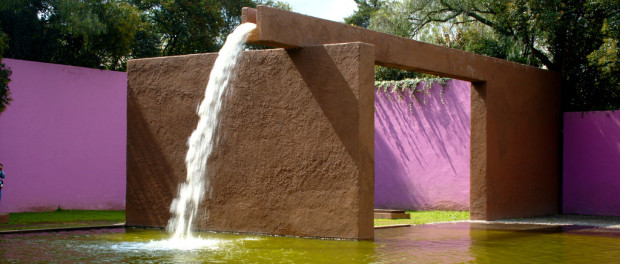 Podcast: Play in new window | Download
Subscribe: Google Podcasts | Email | RSS | More
Today in people who changed the world we remember Luis Barragan, Mexican architect with a Pritzker Architecture Prize on 1980. He was the second architect ever to achieve this award, which is the most prestigious one in the world in the field of architecture. He was also the first Latino in doing so.
Luis Barragán full birth name was Luis Ramiro Barragán Morfín (1902 –1988). He was native of Guadalajara in Jalisco Mexico, sand a son of wealthy, conservative parents. He grow-up on the family's big property in the southern state of Jalisco.
He initially graduated in engineering from "Escuela Libre de Ingenieros" in Guadalajara in 1923 but undertook extra courses in architecture to learn both trades. After his graduation, he traveled to Europe to learn more about the classics in architecture and see first hand the most important buildings of all times. During this long trip, he got acquainted with  Ferdinand Bac, a German-French writer, and designer, and with the master of modern architecture Le Corbusier. Later he also met Mexican mural painter José Clemente Orozco.  All those were inspirations that later he cited as important influences trough his fruitful and successful career.
Although he was heavily inspired by the clean lines of modernism, the international style, and the lectures he took with le Corbusier, he evolved with a personal style moving from the strong functionalism of the Corbusian "machine for living" (1923). The work of Barragan had been described by critics as minimalist and an important part of the international movement, but it was actually set apart by the mixing of the colonial and the Mexican elements in a new modern way. His work expressed a more colorful style that had been described at "emotional modernism". He was known to say, "any work of architecture which does not express serenity is a mistake." He worked with light, color and natural materials to create an emotional response to spaces in the search to the serene and almost meditative state he strives to achieve. This distinction was particularly important in his historical context as most Mexico's artists, architects, and intellectuals during the first half of the XX century were searching for a new national identity and style, after centuries of colonial rule.
Luis Barragán worked for years with little acknowledgment of the public outside Mexico, but in 1975 the Museum of Modern Art in New York created a retrospective compilation of his works and made him knows to the international critics. In 1980, he became the second winner of the Pritzker Architecture Prize.
Years after his death, his house and studio in Mexico City, built in 1948, were listed as a UNESCO World Heritage site.
Since then he has influenced many other great architects, like Alvaro Siza (Pritzker prize 1992) and Ricardo Legorreta. The great American architect Louis Kahn consulted Barragan to get an opinion on his work and is said to have helped him in his design for the Salk Institute in La Jolla California (1965). His opinion to change the original design from an open garden between the buildings to an open plaza with a single water feature is by large the most impressive part of this project.
Today his work is regarded as one of the most important architects of the 20th century, and his buildings are renowned for their mastery of space and light, but he was also a very influential landscape architect and urban planner. His work had been cited as an inspiration by a succession of other Pritzker winners – from Tadao Ando (Pritzker prize 1995) and Frank Gehry (Pritzker prize 1989), to Rem Koolhaas (Pritzker prize 2000)
Barragan is definitely one character who left his mark in the world, and a person to study and remember. He is today part of our series "people who changed the world".
---
I hope this show inspire and inform. Remember to come back for new editions of the show every week.
As usual, I want to thank  you for listening to our show "Atenea Americana", as part of my effort Stanford Hispanic Broadcasting. You can help making programs like this possible by leaving your comments, contributing with your ideas or  materials, but also helping us raise funds. Remember to check our "Contribute" page to learn more.
You may also download this show on your mobile device by going to our site in ITUNES or in PodOmatic or any other of the online platforms showed at the bottom. Remember that we thrive with your comments and your participation.
Here some of the platforms that have the shows:
---
Subscribe here