Bias on Artificial Intelligence
Conversation with Dr. Ricardo Baeza-Yates, PhD, about Bias on Artificial Intelligence
Podcast: Play in new window | Download
Subscribe: Google Podcasts | Email | RSS | More
Today we are featuring a talk with Dr. Ricardo Baeza-Yates, PhD. He is CTO of NTENT, a semantic search technology company based in Northern California. He is also part-time director of data science in Northeastern University at Silicon Valley. Before, he was VP of Research at Yahoo Labs, until 2016. He obtained a Ph.D. in CS from University of Waterloo, Canada, in 1989. He is also the co-author of the best-seller Modern Information Retrieval textbook, that won the ASIST 2012 Book of the Year award. He has been member of the ACM Council and the Board of the IEEE Computer Society. He is an ACM & IEEE Fellow.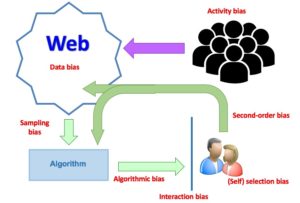 For our chat today, our friend and collaborator Daniel Caselles also joins us. Our conversations center about the topic of Bias on Artificial Intelligence, how it works and what has been done to overcome it.
During our conversation we touch several related topics, and the logic of why and how Bias in produced and methods to counteract it. Here, you can learn more about how it happens, and have a nice time while doing it.
Remember to leave a comment on here or on any of our podcasting platforms,  and to follow us on social media.
---
 We hope to inspire and inform. We wish you can give us feedback, subscribe to this site and our social media outlets to keep receiving information about our show.
As usual, I want to thank you for listening to our show "Atenea Americana", as part of my effort Stanford Hispanic Broadcasting. You can help to make programs like this possible by leaving your comments, contributing with your ideas or materials, but also helping us raise funds. Remember to check our "Contribute" page to learn more.
You can also download this show on your mobile device by going to our site in ITUNES or in PodOmatic or any other of the online platforms showed at the bottom. Remember that we thrive on your comments and your participation.
Other online Platforms for our show:
Subscribe here