Early Cancer Detection, Innovative Product that Will Save Millions Around the Globe
Interview with Mexican Engineer Jorge Soto, from Miroculus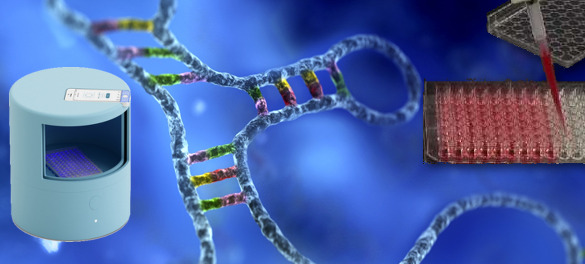 Podcast: Play in new window | Download
Subscribe: Google Podcasts | Email | RSS | More
We always hear that early detection of cancer is imperative in the road towards treatment and recovery.  In that way, any new method that can detect it fast in an affordable non-invasive way has the potential to save millions of lives.
Today I am bringing you a revolutionary product that is doing just that, together with one of its founders. Mexican electronic engineer Jorge Soto (@SotoMJorge) has developed, together with a small multidisciplinary
team
, a new product that can detect various types of cancer and other deceases many years before other methods currently used. Jorge met his team at
"Singularity University"
,  a Silicon Valley incubator that challenges people to spend 10 weeks developing a business idea with the power to impact the world. During that time met with some international scientists, engineers, and innovators, especially with Fay Christodoulou, who had been researching microRNA for years. They formed a team and developed the beginning of what would become this live saving device.
Miroculus detention kit counts with a small hardware that help to observe and douse the desired reaction. It is an open source product. This small piece of equipment together with a smartphone's camera and few biochemical reagents will diagnose in about 90 minutes the early stages or various cancers, neurological deceases, diabetes, or degenerative neurological conditions like Alzheimer or Parkinson.
Current diagnostic methods for cancers tend to be invasive and expensive. The majority of cancer patients never realize they might have cancer until something goes wrong with their health. By that time, it can be too late. This device gets to diagnose the diseases by taking a simple blood sample that can be prepared with biochemical reagents and then pipetted into a standard 96 well plate to "cook" on the hardware for over and hour. The plate will show a particular reaction with the microRNA markers. The combination of this markers will describe the specific disease. This is a very noninvasive and fast method that will make people get tested faster and be used more often.
This product is designed to be easy to use and carried to developing countries, adverse environments, like jungles or deserts, and outside cities and hospitals in rural areas. It is hoped to be very affordable and user-friendly.
_______________________________________
We hope to inspire and inform. We wish you can give us feed back, subscribe to this site and our social media outlets to keep receiving information about our show.
As usual, I want to thank  you for listening to our show "Atenea Americana", as part of my effort Stanford Hispanic Broadcasting. You can help making programs like this possible by leaving your comments, contributing with your ideas or  materials, but also helping us raise funds. Remember to check our "Contribute" page to learn more.
You can also download this show on your mobile device by going to our site in ITUNES or in PodOmatic or any other of the online platforms showed at the bottom. Remember that we thrive with your comments and your participation.
************************************
Other online Platforms for our show:



************************************