Gabriela Mistral – Great Woman and Poet Who Helped to Shape the Present
People who changed the world - Column with Isabel Jubes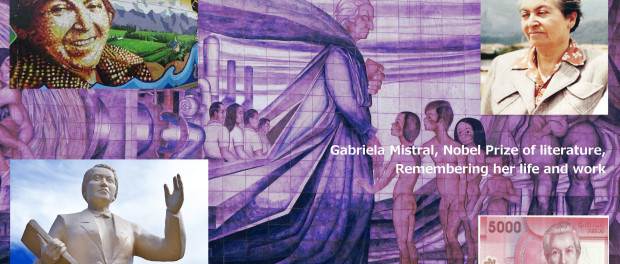 Podcast: Play in new window | Download
Subscribe: Google Podcasts | Email | RSS | More
This week, our character in "People Who Changed the World" is Gabriela Mistral.
Gabriela Mistral  was the pseudonym of Lucila Godoy Alcayaga, a Chilean poet-diplomat, educator and feminist, and winner of the Nobel prize for literature for 1945. Her artistic name was coined from those of two of her favorite poets, Gabriele D'Annunzio and Frédéric Mistral. She was the first, and so far the only, Latin American Woman to receive this award.
Her Nobel prize was awarded for "her lyric poetry which, inspired by powerful emotions, has made her name a symbol of the idealistic aspirations of the entire Latin American World".
She was born in 1889 in the small Andean village of Montegrande in Chile, of Spanish, Basque, and Indian descent.
She studied her primary education under her sister 
Emelina Molina who taught at the town school. Her father was also a school teacher, although he abandoned the family when she was 3 years old. Her early life was always surrounded by poverty and hard works. 
At the age of 15 she was supporting financially her mother, who was a seamstress, by working as a teacher's aid at the local school.
Her reputation as a poet was established in 1914 when she won a Chilean prize for three Sonetos de la muerte" ("Sonnets of Death").
At the young age of 17, she met a railroad worker named Romeo Ureta, whom she fell in love with. He committed  suicide later, and that devastated Mistral  and left a lasting scar throughout her life. More tragedy was to strike later, when a nephew also committed suicide.
Gabriela threw herself into her career as writer and work in education. She became a published author – including volumes of poetry and articles about education.
Her career as an educator and fighter for women education started early, and marked her life. Her rise in Chile's national school system was woking to reform the Chilean policy in education for the first two decades of the XIX century.
In her adolescence the need for teachers in Chile, specially the rural ones was great, but the help of her sister allowed her to start teaching anyway. Access to good schools was difficult, and the young Mistral lacked the political and social connections necessary to attend the Normal School. The main obstacle to accept her in the teachers' was its chaplain, who was aware of her publications in the local newspapers and her advocacy for liberalizing education and giving greater access to the schools to all social classes.
Between the years 1906 and 1912 she had taught, successively, in few schools and towns.  In 1918 Pedro Aguirre Cerda, then Minister of Education, and a future president of Chile, promoted her appointment to direct a "liceo" (Hight School). She later moved to the capital Santiago the Chile, where she defeated a candidate connected with the Radical Party, to be named the principal of a very important Liceo at the country's capital.
Controversies over the nomination of Gabriela Mistral to the highly coveted post in Santiago were among the factors that made her decide to accept an invitation to work in Mexico in 1922, with that country's Minister of Education, José Vasconcelos. He had her join in the nation's plan to reform libraries and schools, to start a national education system. That year she published Desolación in New York, which further promoted the international acclaim she had already been receiving thanks to her journalism and public speaking. A year later she published Lecturas para Mujeres (Readings for Women), a text in prose and verse that celebrates Latin America from the broad, Americanist perspective developed in the wake of the Mexican Revolution.
After extensive travel in Latina America, United States and Europe, she returned to Chile In early 1925, where she formally retired from the nation's education system, and received a pension. The University of Chile had granted her the academic title of Spanish Professor in 1923, although her formal education ended before she was 12 years old. Her autodidacticism was remarkable, a testimony to the flourishing culture of newspapers, magazines, and books in provincial Chile, as well as to her personal determination and verbal genius.
Pablo Neruda, internationally recognized poet, was one of her students, and speaker dearly about her and her work. She was one of the first to recognized his genius.
Among her confidants were Eduardo Santos, President of Colombia, all of the elected Presidents of Chile from 1922 to her death in 1957, Eduardo Frei Montalva, Chilean elected president in 1964 and Eleanor Roosevelt.
Gabriela Mistral is without a doubt a special person to remember, and another character who change shape the world the way it is today.
————————————-
I hope this show inspire and inform. Remember to come back for new editions of the show every week.
As usual, I want to thank  you for listening to our show "Atenea Americana", as part of my effort Stanford Hispanic Broadcasting. You can help making programs like this possible by leaving your comments, contributing with your ideas or  materials, but also helping us raise funds. Remember to check our "Contribute" page to learn more.
You may also download this show on your mobile device by going to our site in ITUNES or in PodOmatic or any other of the online platforms showed at the bottom. Remember that we thrive with your comments and your participation.
************************************
Other online Platforms for our show:




************************************
Subscribe here