Nobel Prize Laureate Rigoberta Menchu Tum, a Fighter for the Mayan People
People who changed the world - Column with Isabel Jubes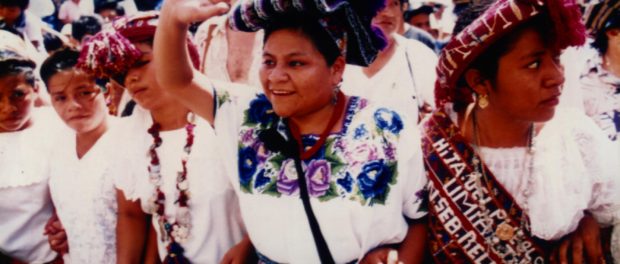 Podcast: Play in new window | Download
Subscribe: Google Podcasts | Email | RSS | More
Today on PWCTW we will talk about Rigoberta Menchu, awarded the Nobel Prize for Peace in 1992. Menchu is a women activist from the indigenous Quiché Maya group on Guatemala. She was born on January 9, 1959.
She was born to a poor native peasant family and raised in the Quiche branch of the Mayan culture. From and early age, she helped with the family farm work, while they were in the northern highlands and on the Pacific coast, where adults and children went to pick coffee on the big plantations. Young Menchu became involved in social reform activities through her Catholic Church, where later she became prominent in the women's rights movement while she was still only a teenager.
The activism of Menchú and her family soon led to persecution by Guatemala's military government. Her father was a leader of a peasant organization opposed to the government and was later accused of guerrilla activities by the military. During Guatemala's ensuing civil war, he died in a fire while protesting human rights abuses.
By 1979, Menchu officially joined the Committee of the Peasant Union (CUC). That same year her brother was captured by the military, tortured and killed. Her mother was also arrested and died while captive by the military. After her mother's death, Menchu became even more active in the committee and activism. Soon taught herself Spanish as well as other dialects of Mayan to help lead the efforts of the movement. By 1980 she was known as a prominent figure at labor strikes. As her name and popularity kept growing as a dissident figure in the fight for civic rights, she started to look more dangerous for the regime. She joined the radical group 31st of January Popular Front. There, her contribution centered in educating the Indian peasant population and helping them in the resistance to the massive military oppression. By 1981, Rigoberta Menchú had to go into hiding, first in Guatemala, and later she even had to flee to Mexico.
During her exile, she led a resistance movement from outside Guatemala. She took part in the founding of The United Representation of the Guatemalan Opposition (RUOG). Her international fame was growing up, and she got to meet with writer Elisabeth Burgos-Debray and told her life story. Burgos-Debray published later the book "I, Rigoberta Menchu (1983)", which is the personal narrative of her life as a young Guatemalan Quiche Indian woman, fighting the plight of the Guatemalan people during the political terror of their civil war. The book shows how harsh Menchu life was. It narrates her life and the struggle to survive while creating a tale of connection within her Quiche Mayan community. In 1984, she performed as the narrator in a film called "When the Mountains Tremble," this documentary was also about the struggles and sufferings of the Maya people.
She received the Nobel Peace Prize in 1992, and they awarded it "in recognition of her work for social justice and ethnocultural reconciliation based on respect for the rights of indigenous peoples."(Rigoberta Menchú Tum – Facts, Nobel Prize Org, https://www.nobelprize.org). The money from her prize founded the Rigoberta Menchú Tum Foundation, which is an indigenous advocacy organization.
Since the Guatemalan Civil War ended, Rigoberta Menchú has worked hard to have members of the Guatemalan political and military government tried in Spanish courts, and in 1999 she filed a complaint before a court in Spain for the crimes committed during the civil war were not possible in Guatemala.
In 2004 she accepted Guatemalan President Óscar Berger's offer to help implement the country's peace accords. She ran for president of Guatemala on 2007 but earned less than 3 percent of the vote, and tried again on 2011 with not much more luck either.
On 2006 Spain formally asked for the extradition of seven former members of the government during the civil war to answer charges of torture and genocide. These accusations were not just for the death of Spanish citizens, but crimes against the Mayan people of Guatemala. By 2015 the Spanish court found guilty a former police investigations unit of murder and for crimes against humanity during the embassy attack, in which Menchú's father died.
There had been some inquiries and following allegations about the validity of the some of the details of the story told in her biography, but some other scholars stand behind her all her testimony after more research.
Today she has been granted many international peace awards and is part of many committees. Menchu is a well-respected figure in Guatemala, Latin America and all around the world.
Rigoberta Menchu Tum and her fight for justice is a story everybody should know about, and get inspired by it. She is a person to remember, and another character who help to change and shape the world the way it is today. She is our story for today's column on "People Who Changed the World."
————————————-
I hope this show inspire and inform. Remember to come back for new editions of the show every week.
As usual, I want to thank you for listening to our show "Atenea Americana," as part of my effort Stanford Hispanic Broadcasting. You can help making programs like this possible by leaving your comments, contributing with your ideas or materials, but also helping us raise funds. Remember to check our "Contribute" page to learn more.
You can also download this show on your mobile device by going to our site in ITUNES or in PodOmatic or any other of the online platforms showed at the bottom. Remember that we thrive on your comments and your participation.
Other online Platforms for our show: