Quino After 50 years of Quinotherapy, or the 50th Anniversary of an 6-Years-Old Girl Called Mafalda
People who changed the world | Column with Isabel Jubes
Podcast: Play in new window | Download
Subscribe: Google Podcasts | Email | RSS | More
Changing the world, the story one great person at its time
Every week for few minutes I'll bring you a short story about an important character in the Latin and Hispanic culture, from history or the present, that had made an important contribution to our culture.
_____________________
Quino is the pen name of a writer, illustrator and cartoonist Joaquín Salvador Lavado. He was the son of two Spaniards Andalusian immigrants to Argentina, born in the province of Mendoza in Argentina in July 1932.He was called "Quino" since he was a little boy, and at the age of three he discovered his profession: cartoonist. When he finished the elementary school he enrolled in the "School of Fine Arts", which he would leave years later to dedicate himself to draw humor comics.
His most successful creation is with no doubt Mafalda.
Mafalda
Mafalda is a 6-year-old, socially conscious little girl with many interests and a deep hatred for soup. Mafalda has black short hair and her restless mind is always concerned by the future of humanity and peace. Her way to express this thought would become the symbol of several generations. The now 50-year-old comic strip (September 29th, 1964) depicts the relationship of Mafalda with her family, her neighborhood friends and her school life.
At the beginning of the strip, it was just Mafalda and her parents, but throughout the years, other characters were added, like her little brother, her friends, teacher, etc. Each of them expressing a stereotypical important image in society.
The initial daily newspaper strip ran from 1964 to 1973. The comic was translated into more than 30 languages. However, it never received much of an audience in the English-speaking world, perhaps because, as Quino put it, the strip was "too Latin American".
Just the same it was a great success in many European countries, even more in Germany as an as an animated series. Quino has opposed adapting Mafalda for cinema or theater; however, two series of animated shorts featuring Mafalda have been produced to this date, including a recompilation of all this in a whole feature movie, and another movie in 1993.
The first time it was animated was a series of 260 90-second films. It was produced for television starting in 1972. Later it was adapted into a full-length movie in 1979 and released in 1981. Years later, in 1993, a 104 short animated Mafalda film was also produced by the Cuban FIlmaker Juan Padron, and backed by Spanish producer.
Mafalda was born on September 29, 1964, in the magazine "Primera Plana", she was also published in the newspaper "El Mundo" and the "Siete Dias Ilustrados" magazine. It all started as a product to advertise home appliances, but Quino later retook his idea and made it as a comic strip for a daily newspaper edition.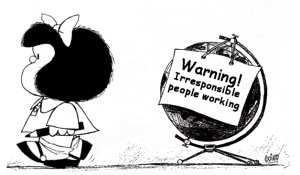 Very soon people liked the way how she commented about moments of history such as Vietnam War, the space travels, J.F. Kennedy's murder, the human rights, feminism, among others. Still her creator Quino has declared several times that he was surprised of the repercussions that his drawings had in different cultures. He publicly said: "Mafalda is based in Argentinian topics and I always wondered how can other cultures understand it"
One example of the famous lines:
Mafalda is listening to the radio,  "The Pope made a new call for peace" to wich she replies, "The phone was busy as always, right ?"
Mafalda Around the World In 1976, the character Mafalda was chosen by UNICEF to be a spokesperson for the Convention on the Rights of the Child.
After the last publication as daily strips in Argentineans newspapers, Mafalda appears again in our world from time to time. For example in the campaign for the "Ten rights of the children from UNICEF", at the end of the 70´s, she warned in one strip "To respect these rights, eh, not going to happen as with the Ten Commandments".
While Mafalda continued to be used for human rights campaigns in Argentina and abroad, Quino dedicated himself to writing other editorial-style comics. The comics were published in Argentina and abroad. Since 1982, the Argentine newspaper Clarín has published his cartoons weekly.

 Awards and Recognition for Quino
Quino has won many international prizes and honors throughout his career. In 1982, Quino was chosen "Cartoonist of the Year" by fellow cartoonists around the world and has won twice the Konex Platinum Prize for Visual Arts. In 1988. He was also named an "Illustrious Citizen" of Mendoza. In 2000, he received the second Quevedo's Prize for graphical humor. In March 2014, he was awarded the "French Legion of Honour".
In 2014, Quino received the most important prize in Spanish literature, the "Principe de Asturias", or "Prince of Asturias".
What Other Great Minds Said
The renown Argentine novelist Julio Cortazar once said:
"it is of no relevance what I think of Mafalda, the important thing is what Mafalda thinks of me. "
Colombian Novel Laurate "Gabriel García Márquez" also talked extensively about Quino and Mafalda, and once said: "After reading Mafalda, I realized that what is closer to happiness is 'quinotherapy'. 
Famous Colombian journalist Daniel Samper Pizano wrote: "Inside Quino's world, different from real world, the urgent matters leave space for the important matters"
Charles M. Shulz, creator of the famous character Snoopy and the cartoon "Peanuts" expressed about Quino:
"The kind of ideas that he works with are one of the most difficult, and I am amazed at their variety and depth. Also, he knows how to draw, and to draw in a funny way. I think that he is a giant."

Quino, his work, and his career had left so far his seed in the world, and I am happy to present it to you as one of our special characters in my column "people who changed the world".

I hope you enjoy the project and remember to leave your comments.
_______________________________________
We hope to inspire and inform. We wish you can give us feedback, subscribe to this site and our social media outlets to keep receiving information about our show.
As usual, I want to thank  you for listening to our show "Atenea Americana", as part of my effort Stanford Hispanic Broadcasting. You can help making programs like this possible by leaving your comments, contributing with your ideas or  materials, but also helping us raise funds. Remember to check our "Contribute" page to learn more.
You can also download this show on your mobile device by going to our site in ITUNES or in PodOmatic or any other of the online platforms showed at the bottom. Remember that we thrive with your comments and your participation.
Other online Platforms for our show:
---