The Shared Society, a President's Vision for Latin America
Peru's Former President Alejandro Toledo Phd, Presents his Latest Book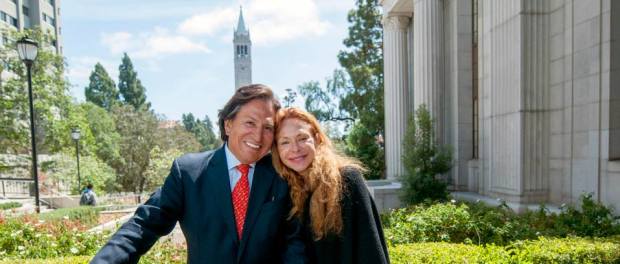 Podcast: Play in new window | Download
Subscribe: Google Podcasts | Email | RSS | More
This April, Dr. Alejandro Toledo, who was president of Peru from 2001 – 2006, came back to the USA to introduce his latest book. He also came with his wife, renown anthropologist Eliane Karp-Toledo who was also inaugurating her book. Both of those books were written during their last tenure at Stanford University that ended in Summer 2014.
Karp-Toledo's book is called, "Peru invisible" or "invisible Peru", which refer to her long life studies about the indigenous people on Peru. In it, she proposes ways of how to fight for indigenous people's rights, for respect and ways to preserved their culture and traditions. She proposes ways of  helping them be part of a modernized global economy, and, in conclusion, ensure that they are considered part of the country and global society making them less "invisible" without departing from their culture.
Toledo's book is called "The Shared Society, a Vision for the Global Future of Latin America " and is about the path that LatinAmerica should lead in the next years towards s more fair and sustainable society, without poverty, illiteracy or malnutrition, in the way of a developed hemisphere by the year 2050.
In the back cover of Toledo's book, we find positive commentaries from presidents and scholars about the book. One example is USA ex-president Bill Clinton's.  He wrote: "As President of Peru, Alejandro Toledo confronted some of Latin America's biggest challenges. Today, he shares his vision for the region's future, and offers a roadmap for promoting growth and creation the inclusive, prosperous society that is well within reach."
During his book tour in California, after his introductory speeches at the university of California Berkeley, University of San Francisco and Stanford University, he explained his vision for the region. He highlighted the potentials and the challenges of the people of the hemisphere. He also got questions from many attendants, and his answers are highlighted in this podcast today.
With the presentation of their books, the Toledos will be traveling for few days to other universities around the country and international discussion panels, then back to Peru where they are working into applying all their ideas to improve their country and even the whole region.
_______________________________________
We hope to inspire and inform. We wish you can give us feedback, subscribe to this site and our social media outlets to keep receiving information about our show.
As usual, I want to thank  you for listening to our show "Atenea Americana", as part of my effort Stanford Hispanic Broadcasting. You can help making programs like this possible by leaving your comments, contributing with your ideas or  materials, but also helping us raise funds. Remember to check our "Contribute" page to learn more.
You can also download this show on your mobile device by going to our site in ITUNES or in PodOmatic or any other of the online platforms showed at the bottom. Remember that we thrive with your comments and your participation.
************************************
Other online Platforms for our show:



************************************